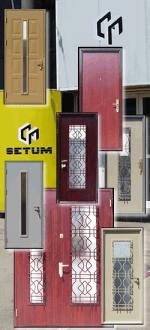 The SETUM metallic door is a robust modern door representing a convenient solution both for security needs and also for the nice design.
The standard sizes of the doors are 880 x 2060 mm but the customer's request all the models can be produced in non – standard sizes, single or double leaf. (see Technical Characteristics)
The door panels - can be flat or embossed and may include glazed surface.
The thermal and acoustic insulation are ensured by filling up the metallic body with low density polyurethan and the results are:

thermal insulation – Ro = 0,650 m² , K = 1,540 W/m²K
acoustic insulation – Ia = 29 dB
fire resistance – 15 min.

The tightness of the door is made by a VARNAMO seal.
The door design was based upon European standards ENV 1627; ENV 1628; ENV 1629; ENV 1630.
For the finishing our customers can choose the painted doors (various colours) or covered with PVC self adhesire foil (16 models looking differend types of wood).
The safety of the SETUM doors is the result of combination between a solid metallic body and reliable locking systems. Because the safety needs of our customers are different, SETUM offers a wide range of cylinders, mortice locks, rim locks, door handles and other doors accessories. Our suppliers such as:


ABUS – Germany;
CISA – Italy;
S.A.B. Serrature - Italy;
are well – known brands for the quality of their products.
SETUM ensures the installation of the doors because it is recommended that this operation to be done by expertise personnel.
As a conclusion our customers have many possibilities to order their proper SETUM door version according to their safety needs.